The sophistication of phishing scams continues to increase so it's important to stay vigilant, especially when it comes to your personal finances.
Recently there have been reports of a phishing scam using pop-ups targeting Financial Institution customers.
This pop-up alerts users that there has been a breach at Fiserv, a provider of technology services to financial institutions, and offers a free credit check. In order to receive the free credit check, recipients are asked to provide a credit card to "validate your identity."
This message is not from Fiserv, or any other financial institution, rather it is an attempt to gain credit card information and compromise your account. This usually happens when your web browser is infected with malware.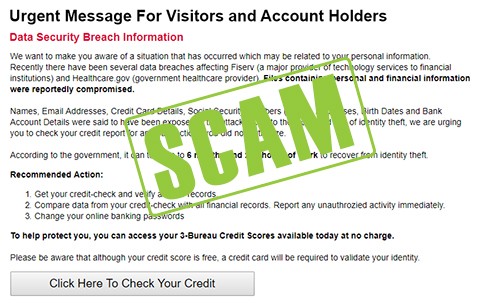 The best way to protect yourself is to know how scammers operate and how to foil them.
Here are tips to help you avoid being scammed.
Don't give account access to any person or company unless you're certain who they are.

Never give your bank account number, your social security number or credit card number to someone who calls you, even if it's for "verification purposes.

If you suspect that someone has accessed your account, contact your bank right away.

Avoid clicking on pop-ups.

Update your operating system regularly (don't postpone or snooze these important updates!)

Use web-filtering software to warn you before accessing potentially harmful sites.
For additional tips, read 5 Tips to Help You Avoid Being Scammed. And you can always call or visit your local bank to find out what protections and advice they can offer.
These tips are provided by Brentwood Bank and are for educational purposes only. Brentwood Bank makes no representations as to the accuracy, completeness, or specific suitability of any information presented. Information provided should not be relied on or interpreted as accounting, financial planning, investment, legal, or tax advice. Brentwood Bank recommends you consult a professional for any specific guidance you are seeking.