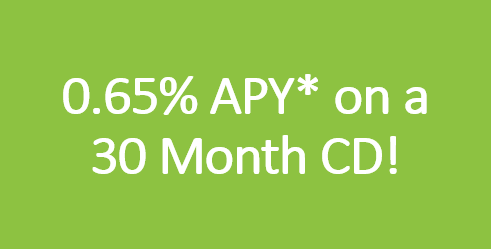 Lock in this great rate today!
* Rate accurate as of 11/24/2021. The minimum required to open this account and receive the APY is $2,000. APY = Annual Percentage Yield. Penalties may be imposed for early withdrawal. Fees may reduce earnings.
Account Disclosures
1. Limits apply. Funds may be submitted for placement only after a depositor enters into a CDARS Deposit Placement Agreement with us. The agreement contains important information and conditions regarding the placement of funds by us. CDARS and Certificate of Deposit Account Registry Service are registered service marks of Promontory Interfinancial Network, LLC.

2. When deposited funds are exchanged on a dollar-for-dollar basis with other banks in the Network, we can use the full amount of a deposit placed through CDARS for local lending, satisfying some depositors' local investment goals or mandates. Alternatively, with a depositor's consent, our bank may choose to receive fee income instead of deposits from other banks. Under these circumstances, deposited funds would not be available for local lending.

* Federal regulation prohibits you from making more than a total of six transfers each statement cycle to other accounts from a savings or money market account (including transfers to another account for overdraft protection) or to third parties by check, point-of-sale purchase transactions with a banking card, pre-authorized or automatic agreements, telephone, or online. Other limitations may apply to your account. See your Account Agreement for Fee Schedule and additional information.